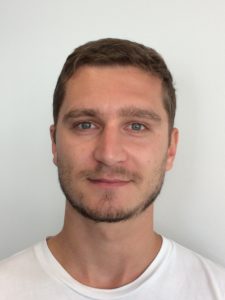 Meet Josef Pacula, a Software Engineer at our Prague office in Czech Republic.
Josef graduated from the Masaryk University in Brno, Czech Republic, with a degree in Computer Science. Before coming to work at Cimpress, Josef worked for Prizeo, a company that runs lottery campaigns with celebrities to raise money for charity. He believed it was a valuable startup experience with a lot of responsibility. It gave him the opportunity to be one of two employees in the tech team responsible for the whole product's technical side, starting from design, implementation, testing and operations.
Currently, Josef works in Cimpress Technology as part of the Logistics team which is building a service called SortMan (Sortation Manager), that should allow manufacturing plants to configure all their shipment sorting needs!
As a fairly new employee (he has been at Cimpress Tech for only a few months) his experience at the company is still limited, but his favorite event thus far has been the VIEW, an event held in many of our offices around the world where team members have the chance to mingle and get to know their colleagues over food, beverages and games.