What do we mean by lightning talks? Is it simply a presentation delivered at the speed of light? A delivery so clear and concise, the audience is struck with understanding? A topic so illuminating, it electrifies and brightens the mind? Hmmm…. Well, bad jokes aside, we do know that lightning talks are meant to be quick, concise, informative, and high energy. And, at Cimpress, we host them as a series of consecutive five-minute presentations. It's all about creating an opportunity for team members to come together, learn something new, practice public speaking and generally support and entertain one another.
A Waltham event sponsored by our Women in Technology Group
Our Women in Technology group recently organized a round of lightning talks, which any team member could voluntarily sign up for to present on a topic of their choice. Irrespective of the group's focus, the topics didn't need to be related to technology, women, or Cimpress – and most weren't! Over the course of 40 minutes, audience members were treated to seven unique and original presentations, all of which not only shed light on individual personalities, but also their surprisingly diverse skills and interests. Here's a breakdown of what we heard:
RUST
Marcus Griep, Lead Software Engineer, introduced us to Rust programming language, giving an overview of its features and benefits (like its strong sense of ownership and guaranteed memory safety) and – in an unexpected and humorous twist – walked us through an example using radioactive bananas.
App development: estimating blood alcohol content  
Christina Aiello, Software Engineer, told us about a phone application she developed for her Master's thesis that predicts a user's blood alcohol content with 89% accuracy based on her/his walk. The application detects certain walking traits via the smartphone's sensors, some of which are: the number and length of a person's steps taken over time versus the total distance covered, and how much the user sways back and forth on three different axes. Who knew that alcohol levels could be read in this way? Warning: This is not a game (although it kind of sounded like one to us!)
Girls and women can and do play sports
Tim Bonci, Lead Operations Engineer, walked us through statistics of female participation in high school, college and Olympic sports. Fact is, girls and woman play sport at all levels on parity with men. But, as Tim went on to explain with a number of surprising stats, it's all down to the way the media portrays and covers female sports.
Cracking a master lock
Angela Lu, Operational Support Engineer, made us all think twice about the security of our gym lockers as she walked us through the steps to crack a master lock, narrowing 64,000 possible combinations to only 20 through a combination (pun intended) of tinkering and math. Not bad!
Coffee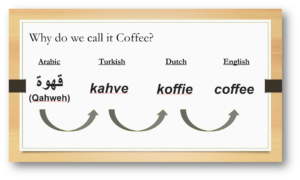 Enas Alnajjar, Senior Auditor, shared the origin, history and lifecycle of coffee. Coffee aficionados and caffeine-holics rejoiced as she cited a plethora of studies whose findings support the numerous benefits of coffee. So, as if we needed more reasons, we will be continuing to drink our antioxidant-rich, disease-fighting, super beverage, thank-you-very-much.
The Virtual Workplace
Tim Kirchner, Principal Software Engineer, talked about the variety of work environments and their associated pros and cons. A fan of the virtual workplace, he challenged us to give it a try, providing tips and tricks for overcoming key challenges.
Let Me Tell You a Story
Colleen McCretton, UX Manager, told us a story about the history of storytelling, explaining that it is a specific art, which is backed by science. Apparently, it's all about the way human memory works: effective storytelling communicates with our brains through multiple channels.
So there you go: I think it's safe to say we all learned something new and it's fantastic to know we have so many bright and interesting team members! Lightning talks are such a fun way to learn a broad variety of topics quickly, and to start a conversation or peak other's interest on a topic. They are a fun way to bring people together. Not only to do they provide insight into individual skills and passions, they also promote creativity, collaboration and information sharing.