During this time of year we experience an exciting seasonal rush and our Windsor team works around the clock, six-seven days per week to ensure millions of customers receive great products in time for the holidays. The holiday season in Windsor's manufacturing plant is nothing shy of an all hands on deck, collaborative effort. Team members pitch in to help throughout the plant wherever needed and we also bring on new team members to assist.
We're thrilled to have a special new hire on site to help us get through the busy days this year. Our newest member of the Windsor, Ontario team is Cimpress the ELF. He comes from the north with great experience working on high volume orders and fast-paced production. He's also no stranger to making sure personalized requests and customized orders find their rightful homes.
Our Talent Acquisition team is dedicated to searching to globe, no matter how remote, to locate the best and brightest talent. This year, one of Windsor's goals was to recruit a "special" employee to assist the Human Resources team to be a part of our company culture and bring extra fun and creativity to the greater Cimpress team during the busy holiday season.
Cimpress the ELF, otherwise known as the Executive Laugh Facilitator, is perfect for the role. He's already bringing laughter and a little lightness to the hard-working manufacturing and office teams and he can be seen familiarizing himself with the production layout on daily plant tours.
Cimpress the ELF is responsible for creatively engaging with Windsor team members across all departments of the plant. Every team member in Windsor has opportunity to spot Cimpress around and to recall Cimpress' adventures during the season for a chance to win a holiday prize. So far, he has tried to sneak some new gloves in Offset, showed his Canadian pride, and attempted to assist in Windsor's cafeteria.
Cimpress the ELF isn't the only elf to make his appearance on the Cimpress holiday payroll: his cousin Buddy joins the Vistaprint team in Lexington, MAeach year as well!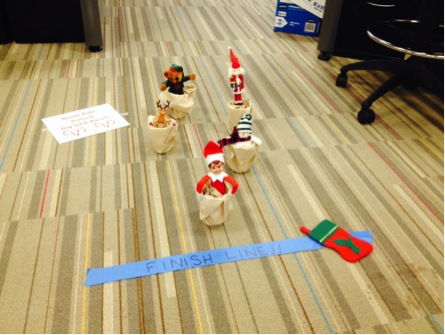 Buddy and his friends competing in a friendly potato sack race.